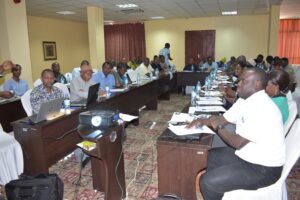 DEVELOPMENT OF BUSINESS DOCUMENTS
         (BUSINESS PLAN AND BUSINESS PROPOSAL)
  A. Development of Business Plan which will;
Helps to stand as a road map designed to guide the business through the years of business operations.

Helps determine the viability of the venture in a designated market

Provides guidance to the company/entrepreneur in organizing his or her planning activities

Serves as an important tool in helping to obtain financing.

Help the implementation of the proposed business strategy(s) contain control points to ascertain progress and to initiate contingency plans if necessary.

Describe a marketable idea - to attract the attention  of MFIs - Financial Sources (Banks) /stakeholders/investors

Shows good profit potential in a very reasonable period of time needed by business stakeholders/ investors/donors.

Clearly defined market with enough size and purchasing power to produce a profit.

Clearly explains the "competitive edge" of products or services that has over rivals. –that can outshine competitors

Describe levels and personnel's skills, knowledge and experiences, and competencies needed to make the business/company a success.

Shows business ability to control both the delivery and the quality of the product or service.

Not be overly complex - keep it so simple (KISS principle) but sure business

This shows that the company/entrepreneurs have made a commitment investment in this business venture.

Show that company's'/entrepreneurs' products or services offer customers a long-term benefit.

Lays out a clear, well-conceived, workable strategy for getting business up and running.

Contains realistic financial projections covering most likely, pessimistic, and optimistic scenarios.

Communicates client's vision for the business and why it will succeed to potential business market, business leaders, and investors in a clear way,
B. Development of Business Proposal which will;
Establish and enhance commitments and evidence of collaboration with all potential stakeholders in planning as well as in the execution of the proposed project intervention.

Clearly established the need for the proposed activity.

Detailed describe the project goal and objectives

Highlighted most important project ideas.

Portray a detailed schedule of project activities, or at least parts of a complete sample project schedule.

Articulate, describe detailed analysis, indicating and managing key activities as sources for uses of projects funds/money from proposal budget.

Clearly addressed all major matters indicated in the proposal guidelines.

Clearly indicating the commitment and agreement of project staff to participate in the project interventions

Appropriate providing detail of all parts of the proposal.

Behaving reasonable consistency length for the proposal based on the guidelines and/or expectations.

Clearly communicate qualification, expertise, experience, skills, and knowledge of the Project personnel.

Clear and concise indicating the writing style of the proposal. This approach helps the reader understand the problems and proposal. Summarizing statements and headings are present to lead the reader.

Include appendices containing details that the reviewers may not read but are very useful such as a relevant brochure. Likely be conservative with the inclusion of such documents and consider if including them would, in fact, put more meaning to proposal evaluators.
C. Development of Strategic Plan which will
Center on objective situational and stakeholder analysis

Portray the clarity of purpose of the business and realistic goals

Show a Sense of urgency

Contain strategies that give scores to goals / objective values and play to your organizational strengths

Understanding and maintaining the business culture profitably

Portray strong Leadership and managerial values

Developing unwavering discipline for the benefit of the business

Anchoring the changes in company culture

Monitoring, measurement, and feedback

Creating and or developing a higher level of transparency