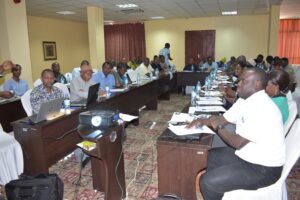 BUSINESS, ORGANIZATIONAL, AND PERSONAL DEVELOPMENT PROGRAMS
Our company GBFS has two major areas of activities on business development services – training and consulting. In 7 years of business, we have provided training courses for more than 1.500 staff and managers from over 51 enterprises in Tanzania. Businesses recognize the value of our training services more easily than they do consulting services since they can see a more immediate impact from training activities. The demand for training, therefore, is higher and the supply is also readily available as market entry conditions are relatively low.
However, currently, the concept of management consulting services is quite applied as foreign investors began to invest in local private businesses in Tanzania and introduced consulting services. Many private businesses are not aware of the benefits of using independent consulting services, and their perceptions of the scope of consulting services are sometimes not accurate.
On the macro front, GBFS plays a more active role to stimulate the development of the BDS market through facilitating the creation and operation of a BDS providers' association, which then could establish professional standards for BDS services. The public socioeconomic information database should be improved and be made available to the wider business community as this information is a key input for BDS suppliers.
Business Development Services and Advisory

Entrepreneurship and Business Development Program

Governance, Accountability, and Advocacy

Project Planning and Management

Baseline Survey

Business Development Services and Linking 

Value Chain Development and Market Linkage

Entrepreneurship and Business Development

Renewable/Clean Energy Programs.

Resource Mobilization

Policy analysis and Advocacy

Financial Management and Financial Management for Non-Financial Managers.

Marketing and marketing strategy development (including Branding)

Human Rights-Based Approaches

Organizational Development, Leadership, and Management

Technology Transfer and Partnership.

Human Resources Management

Gender and Children's Rights

Development of Business Documents – Strategic Plans, Business Plan, Business Proposal –etc